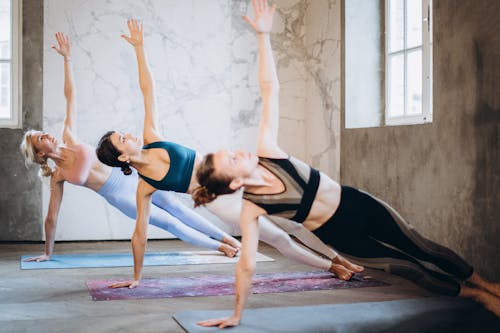 If you are searching for a workout to get rid of your side tiers, then this is the right workout for you.
Side planks muscles worked
The side plank is a great workout for obliques and also for many more muscles like glutes, hamstrings , quadriceps and abductors. But it primarily work as a abs exercise as it targets more on oblique muscles.
Side Planks Benefits
Side plank is a great workout with many benefits. It primarily targets your obliques but it also strengthens core, legs, arms and wrists and also it helps to improve balance of the body. Simply side planks will tone your shoulders, obliques and leg muscles as well.
Side Plank Variations
As well as other exercises, this exercise also have many other variations. You can choose the variation that you need to do, according to the muscle that you need to work on.
Bent-Knee Side Plank – This is most suitable for beginners as this is the easiest one. In this variation you can place your knee on the ground instead of the feet
Side Plank – This is the usual variation which is little bit advanced than the previous. Steps to perform this variation will be explained at the bottom of the page.
Elevated Side Plank – In this variation, the only difference is you are placing your palm on the ground instead of your elbow. Other steps are same as the below.
Side Plank With Leg Lift – This is a way advanced than the previous variation. The steps to perform this is almost same as the usual side plank. The only difference is you are lifting the leg which is not on the ground.
Side Plank Knee to Elbow Crunch – This is also another advanced variation of side planks. In this variation, you are crunching the remaining hand and the leg which is in the top side of your body.
Side Plank Rotations – This variation is also can be known as a advanced variation. In here, you have to position same as the way in the usual side plank at first. Then you have to alter your hands and legs by rotating and then keep your other elbow and feet on the ground. Continue this alternation until your reps are done.
Steps to perform Side Planks
So here are the basic steps to perform usual side planks accurately.
Lay a mat on the floor and lie on it on your right side (Your palm should be right below your shoulder and feet must be straighten and keep as shown in the above picture)
Your head, shoulder and feet must be in the same line
Now maintain this position as much as you can for best results
For side plank reps, you can do 3 sets of 30 S, 1 minute
While holding the position make sure you are lifting your hips without letting them fall down to touch the ground