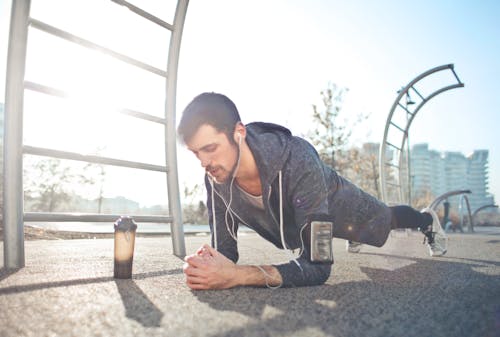 Why Planks?
If you are looking for an exercise which works for the total body at once, then definitely it will be the planks. Planks will work your core muscles, glutes and thigh muscles as well as abdominal muscles. Also, planks are a great workout to strengthen your abs, core and shoulders.
If you are a beginner for fitness, then you will feel very difficult to do planks. But with practice and once you increase your fitness you can increase your plank holding time.
Fitness Crackers us recommend you to start from 20 S and increase it by 10 S. Try to do 30 S in the first week and then gradually try to increase the holding time up to 1 minute from the second week onwards.
Steps to perform
Here are the basic steps to perform the great full-body workout, planks.
Lay a mat on the floor
Lie on it while facing the mat
Keep your elbows right below your shoulders as shown in the picture
Then push from you toes and hold the body with only toes and elbows
Make sure to keep your chin, neck, abs and thigh muscles tight
Hold for 30 -60 Seconds
Rest for 1 minute and do such 3 sets